"Thank you so much for teaching us the Word of God!"  –Verdict Listener (TX)
"Your ministry has changed my life. I didn't really understand the wonder of the Gospel and the incredible grace of God."  –Verdict Listener (TN)
Welcome to The Verdict!
The Verdict is the media ministry featuring the Bible teaching of Pastor John Munro.  Each day, you're invited to open your Bible during our daily 25-minute broadcast/podcast.  Whether you are new to the Bible or a longtime follower of Jesus Christ, John offers clear, insightful teaching that will challenge you for a personal response: "What's your verdict?"
In addition to our daily program, John has a weekly podcast called Avizandum.  Avizandum is a term from Scottish law that refers to the careful consideration given by a judge before he/she makes a decision. Each Tuesday, John shares personal thoughts and Biblical discussion so you can take matters avizandum!
Meet Pastor John Munro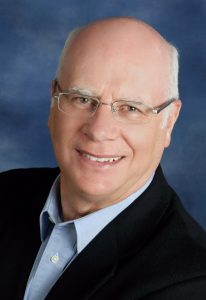 John is Senior Pastor at Calvary Church in Charlotte North Carolina. and has served in pastoral ministry for more than 30 years.  His passion is to glorify God through the preaching and teaching of the Word of God and shepherd souls.
A graduate of Edinburgh University, John formerly practiced law in Scotland. When God called John to full-time pastoral ministry, he and his wife, Gudny, moved to Texas to attend Dallas Theological Seminary, where he graduated with Master of Theology and Doctor of Ministry degrees
Calvary Church: Home of The Verdict
Calvary Church in Charlotte, NC is home to The Verdict.  Calvary is an evangelical, non-denominational church focused on being and making authentic followers of Jesus Christ.
If you're in the Charlotte area, we'd love for you to join us for worship any Sunday morning at 9:45AM — in the Calvary Sanctuary or via livestream.  And be sure to introduce yourself to John—he loves to meet Verdict listeners!  For more information about Calvary and our ministries for all ages, visit calvarychurch.com.